Conservatory Cleaning Services
Cleaning conservatories in Berkshire & the South East for over 40 years
A clean conservatory really can make all the difference to your home, so make sure it is clean in time for the spring and summer months when you will be making the most of your conservatory.
Conservatory Cleaning
Windows, Roof Panels, Sills & Seals
We have been cleaning conservatories in Berkshire & the South East for over 40 years and offer a professional and fully insured service. Regular cleaning of conservatories greatly reduces the need for repairs and maintenance as, over time, the accumulation of dirt & grime causes damage, such as corrosion, fading and discolouration.

Packages to suit your conservatory and budget
Our service caters for all types and sizes of conservatory - big or small, we can clean it. We use total pure water technology and high performance environmentally friendly cleaning techniques. These techniques are safe for frames and seals, & remove all traces of algae, moss, environmental pollutants and discolouration to bring your conservatory back to looking like new.
Did You Know?
We use totally purified water to gain amazing
results on your frames as well as the glass
What We Can Do
A Deep Clean
Conservatories are an expensive investment for any householder, but they add real value to the property &amp the quality of your living environment. Maybe the conservatory was added before you purchased the property, or perhaps its just that you never really thought about long term maintenence. Whatever the reason, the facts are the same - wind and the rain and the passing of time can cause severe harm to conservatories.

Blocked gutters and valleys restrict the surface drainage, with the growth of moss and other plant life in the worst cases panels can lift, reducing the conservatories water tightness.

Green algae if left can spread over the polycarbonate /glass roof panels making the once gleaming conservatory look extremely unsightly. Inside the UPVC framework can also attract dirt especially from nicotine, which can cause discolouration of the frames and panels.

We have the equipment and expertise to clean & renovate all types of conservatories inside or out.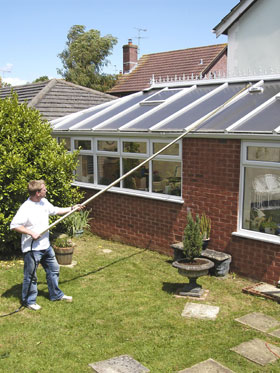 Free quotations without any obligation, please feel free to phone or email using the details on our contact page.
Areas Covered
Testimonials
A Cool Winter Offer.
From October through to March get a half price window clean with every Conservatory Clean.